Elderly patients who were admitted to the hospital due to some injuries or diseases require proper care and attention to heal. So, after they are released from the hospital, they should be taken care of properly without fail. Due to busy routines, however, it becomes difficult for family members to take care of the elderly in their house full-time with dedication. If you are someone who is torn between work and taking care of your parents, then you can seek help from respite caregivers. They can offer quality caregiving service and take good care of your elderly loved one.
Now, if you live in Croydon and are looking for 24 hours respite care services, then make sure you hire only experienced respite care services in Croydon.
Top Reasons to Hire Respite Care Services for Elderly After Hospital Stay
In case you are thinking about how respite care service can be beneficial for your elderly loved one who is recuperating from a disease or accident, then take a look at the reasons here.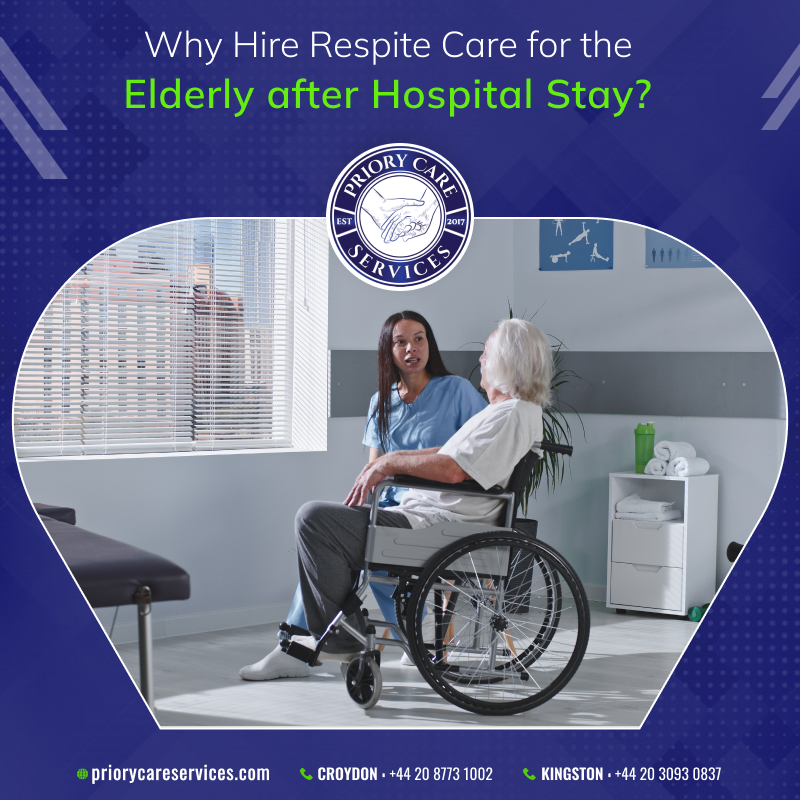 24/7 Care
Once discharged from the hospital the elderly must continue to receive the same amount of attention and care at home. This means he/she needs to take medication on time, requires feeding assistance, support when visiting the bathroom, a fixed diet plan and more. Therefore, someone must be constantly by his/her side and dedicated to taking care of the needs. This is where respite care service providers can come to the rescue and offer help. They can help the patient to take medicine on time by staying by his/her side 24/7, fixing a routine for the elderly, and taking care of his/her wounds (if any) by dressing.
Monitoring
Hiring respite care services can be of great help as respite caregivers can monitor the elderly day and night. When recuperating from a wound or disease, an elderly faces challenges such as inadequate sleep, constant urge to visit the bathroom, fluctuating blood pressure and more. In such a situation it is important to keep the elderly under someone's constant vigil so that whenever he/she needs help a caregiver can attend the requirement on time.
If you are looking for quality respite care services, then you must hire acclaimed respite care services in Kingston Upon Thames.
Socialisation
It is important to keep your elderly loved one cheerful and make sure he/she is not feeling lonely or unhappy. It is easy for them to slip into depression during this period if he/she is on his/her own for a major time period. Therefore, it is important to keep the elderly socially active, so that he/she feels valued and not a burden. Respite care service providers are trained to keep the elderly entertained by reading, chatting, and etc. Therefore, hiring them can be a great relief not only for the patient but also, for you.
Safety
Safety is a major concern when an elderly is healing from a previous wound or disease. For instance, there are chances that a patient can have a relapse during the healing period. Also, fragility and physical weakness make the elderly vulnerable to accidents and infections. This is why they must be taken care of properly at this time. So, in case of an emergency someone experienced can take the right action.
Should you be someone who lives in Croydon and looking for respite care services make sure to approach the right respite care services in Croydon for quality care.
Conclusion
When an elderly is discharged from the hospital, he/she becomes dependent on others for recuperating from the accident or illness. The period between your loved one who is discharged from the hospital and till he/she heals is very crucial and demands constant monitoring and attention. Plus, a family member becoming a primary caregiver without proper experience and knowledge can be damaging. Hence, you must put your elderly under the observation of respite caregivers who can help in the above-mentioned ways and help him and/or her to heal. In case, you live in Croydon and is looking for the best respite care services in Croydon, then you can contact Priory Care services.