After a certain age, the elderly members in our lives require proper support to do their routine tasks. They fail to do a lot of movements due to mobility issues, are unable to take care of their laundry and cooking tasks and even fail to maintain proper hygiene habits. In such cases, many children due to their busy schedules move their parents to care homes. Although all the needs of the elderly are taken care of at such places, they may feel disheartened to stay away from their family. Thus, to give them proper care it is important to give importance to their feelings, and thoughts as well. This is why some children would want to opt for twenty-four-hour care services at home. So, should you be someone who has an ailing parent at home and not being able to care for them properly can opt for day and night care services at home.
Know how availing in-home day and night care services can help your parent and you.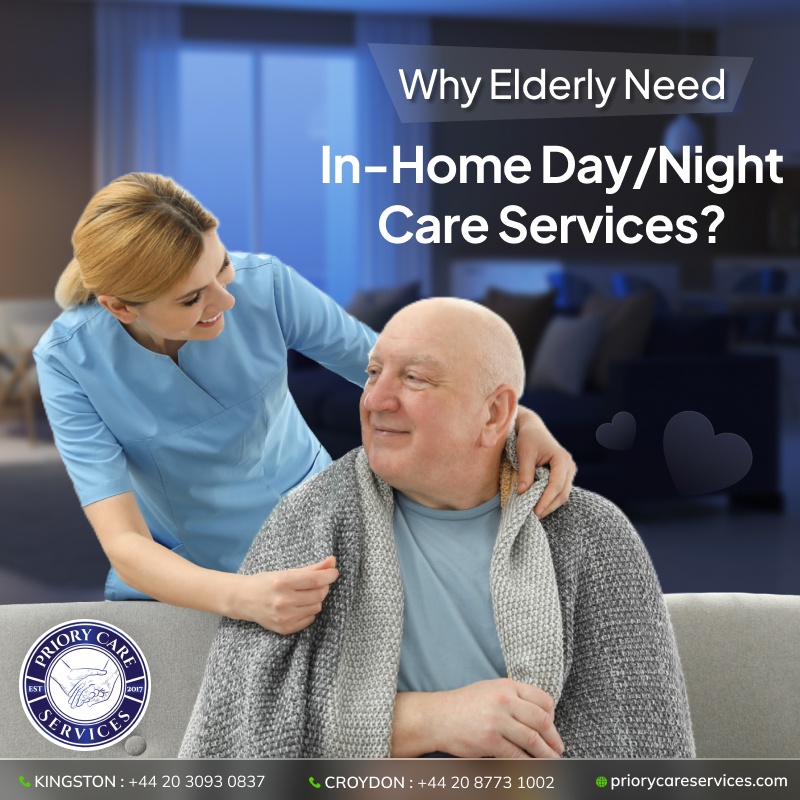 5 Best Benefits of In-Home Day and Night Care Services
Take a look at the different benefits of hiring day and night care nurses for your elderly parents.
Safety and Comfort
The care provider can create a safe and comfortable environment at home, and this can help elderly ailing patients to recover quickly. In fact, according to experts, due to less fear of mobility issues and not required to adapt, elders recover faster and with fewer complications at their homes. Also, they can maintain a sense of normalcy at home, which helps them to have good mental health.
So, if you are someone who wants their elderly ailing parent to recover quickly and stay safe and comfortable, can opt for day and night care services at home.
Service at Convenience
With care services at home elderly do not have to shift anywhere and stay in their house. They can stay at home and get advanced treatment at their convenience. So, neither they are moved against their will nor they have to undergo an emotional separation. Further, they can stick to their old routine and stay in their familiar surroundings, which gives them a sense of security and strength.
Peace of Mind
Not only do the elderly parents get satisfaction with home care services, but also, family members like you who want the best for loved ones can have peace of mind. This is because your parents' happiness is your happiness. Further, safety is also a factor that matters when you are leaving your loved one under others' care. Moreover, experienced and trained service provider knows how to tackle elder persons and act properly during time of emergency. These are also some of the reasons why opting for day and night care services can give children of ailing parents peace of mind.
If you are a resident of Croydon and looking for help, then you can get in touch with leading service providers offering day and night care services in Croydon.
Personalized Care
When you opt for home care services, your elderly parent can receive personalised services. This is one of the major benefits of home care services. Every patient has different needs, which must be addressed for proper recovery of the patient. Diet, medication management, and emergency requirement all vary from one patient to another, with home care services you can ensure that your ailing parent is getting all these services.
Receive Proper Attention
Every human wants attention, as everyone gets busy with their lives the elderly people at home find no one to give them company. With the help of home care services, you can ensure your elderly parent is getting the attention he/she needs. This is because as home care is a one-on-one care service, the nurse can give all the attention to the patient and thus, can fulfil all his/her wishes. They can read to them, cook their favourite meals, engage them in activities etc.
Conclusion
Most ageing people prefer getting proper care and attention at home and that is for obvious reasons such as attachment, fear and etc. This is why it is in-home care services that can help them not only physically but also, keep them happy mentally. So, if you are someone who is concerned about your ageing parent's health and want round-the-clock support for them, then it hiring in-home day and night care services can be of great help. In case you live in Croydon, and looking for an in-house day and night service provider at home, then you can contact Priory Care Services.