No elderly likes leaving their home and residing in a care facility. Older adults feel confident, independent, and in control when they are living in their own homes. Residing in a care facility can negatively affect their mental and emotional state. Family members may opt for 24-hour home care services in Croydon to ensure that the elderly living alone is well taken care of within their familiar environment. In this blog, we look at the various benefits of hiring 24-hour home caregivers for senior adults.

Personalized care

Home caregivers allow older adults to live with as much independence as possible in the comfort of their homes. With 24-hour caregivers, they attend to all personal needs of the elderly. The older adult is the priority and the caregiving routine is modified to suit their individual needs. Caregivers can provide help with bathing and grooming, cooking meals, running errands, visiting the church, and more. Thanks to the 24-hour supervision, the chances of falling accidents or any other medical emergency are also reduced.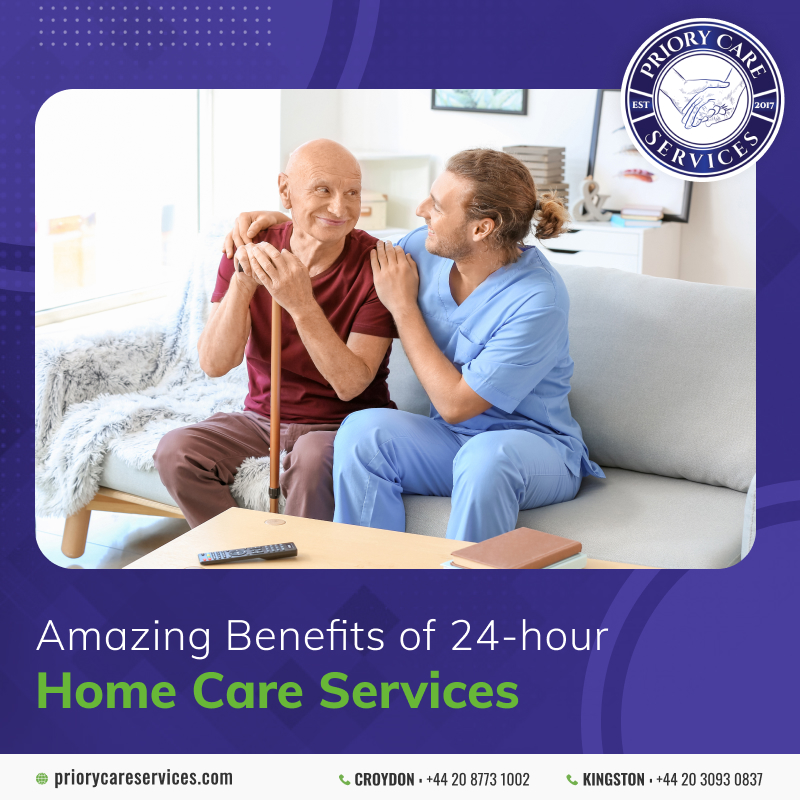 Maintain the usual lifestyle

When you hire 24-hour caregivers, the elderly can continue with their everyday routine without much changes. Shifting to a care facility puts them in an unfamiliar environment, which can be emotionally harmful to them. With in-home caregivers, the elderly can keep up with their day-to-day activities like before. From taking a walk outside to preparing meals, the senior adults have the assistance of caregivers to live their usual life. The familiar surroundings keep them mentally stable and emotionally happy.

Peace of mind

Do your parents live alone? Then, you must know the feeling of guilt and worry always going through you. It is impossible for you to leave your work and family to ensure their well-being all the time. But that doesn't stop you from constantly worrying about them. Hiring home care services in Croydon can help put your mind at ease. Your parents will get 24-hour supervision, thus, reducing any chances of a fall or other accidents from happening. When you know they are receiving proper care, you feel a little at peace.

Help with household chores

As the body ages, even simple tasks around the house can become difficult to finish. Caregivers can provide assistance with cooking meals, cleaning and vacuuming, laundry, washing utensils, and such. They help with these simple housekeeping chores to make things easier for the elderly.

Transportation assist

Driving is one of the skills you lose as one gets older, which could be due to impaired vision or weakened motor functions. In-home caregivers can provide transport assistance to seniors and drive them around to the nearby supermarket, doctor's appointments, going to church, and visiting friends and peers. This helps the older adults to finish all errands on their to-do list and also keep up with their social life.
Respite for the family caregiver
In a family with only one primary caregiver, it can be exhausting to look after each and every need of a senior adult in addition to all the other household duties. Hiring a 24-hour caregiver can give the family caregiver a well-deserved break. They get a helping hand, which allows them the time to rest and recover.

Conclusion
Caregivers do the essential task of taking care of your parents in your absence. There are plenty of home care services in Croydon offering 24-hour caregivers with professional training and experience. If you're looking to hire one, contact Priory Care Services.