Thinking about going on a small weekend trip? But worried about leaving your ageing parents alone at home? Even if the elderly at your home can still do household tasks, hiring holiday care services will certainly make their days easier. From going grocery shopping to taking out the garbage every day, caregivers can help in various ways. It also gives peace of mind to the family members who are away.
At Priory Care Services, we offer reliable holiday care services in Croydon for older adults. Below, let's see how we can help seniors at home.
Provide hot meals
Cooking can be a difficult chore to manage for most senior adults. From washing and cutting vegetables to washing the pots and pans after the cooking is done, it involves a lot of work. You also have to spend a considerable time standing, which can be tiring for some people. When the family is away, caregivers can take up the responsibility of cooking healthy meals for the senior. They can help with meal preparation and take care of all their dietary needs and restrictions. Holiday care services will make sure the elderly are given all meals on time.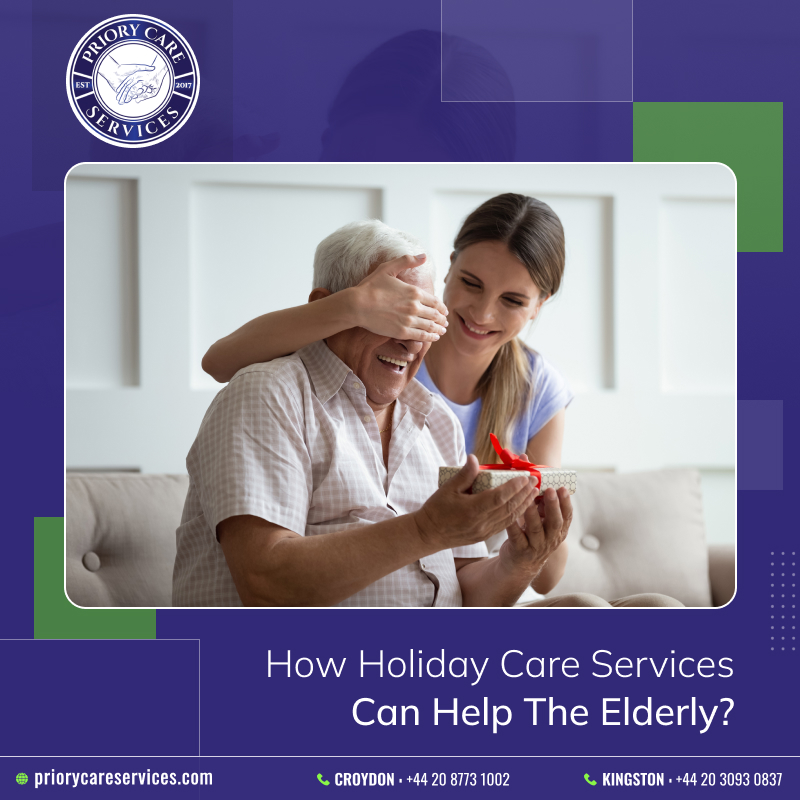 Help with household chores
Many older adults are blessed with perfectly good health. While a caregiver might not be needed, household assistance is a service that's definitely appreciated. There are plenty of holiday care services in Kingston Upon Thames and other neighborhoods that provide domestic helpers. These household workers can help the elderly with all types of chores – ranging from vacuuming the floor to doing the laundry.
Medication Management
On average, an older adult takes about five different medications per day. This number can be less or more depending on the individual's health and diagnosis. When the rest of the family is away, many seniors often tend to neglect to take their medicines. This could be due to something serious like a lack of mental capacity to remember which pills to be taken when, or in some cases, it is just due to casual negligence. By hiring holiday care services at home, you can make sure that your parents are given all their medicines on time as per schedule. In the case of a diabetic patient, caregivers can also help with giving insulin injections.
Companionship
Old age and health complications can restrict many older adults from travelling a long distance. But no one likes to be left behind. When the rest of the family members go away on a trip together, seniors may suffer from feelings of isolation and depression. An unhappy mind can result in deteriorated physical health. With holiday care services, you can make sure your parents don't feel lonely when the family is not there. The caregivers can provide pleasant companionship to the elderly.
Conclusion
You always want the best for your parents. But you cannot always be present with them. With holiday care services, you can ensure they are taken good care of even in your absence. If you have been searching for trusted and reliable holiday care services in Kingston Upon Thames, then get in touch with Priory Care Services. Our caregivers are trained and experienced in elderly care.