Bed sores are pressure ulcers on the skin that is commonly seen among ailing patients who have been bedridden for a long time. Older adults with mobility issues who face difficulty in getting out of the bed are more prone to getting bed sores. Having a professional caregiver at home can prevent such a thing from happening. If you have a bedridden senior at home, then you must seek help from domiciliary care agencies to ensure the best care to your elderly.
What are Bed Sores?
Bed sores are pressure ulcers caused due to the damage of the skin or its underlying tissues in an area, which then leads to an open wound. It happens due to interrupted blood flow to that part of your skin tissues. The reasons could be as following:
>Sitting or lying in the same position for too long which puts pressure on the skin.
>Friction caused to the skin when the body is rubbed or dragged against a surface.
>Shearing of the skin that happens when the body slides down a chair or bed, resulting in the skin pulling away from the supportive tissues underneath.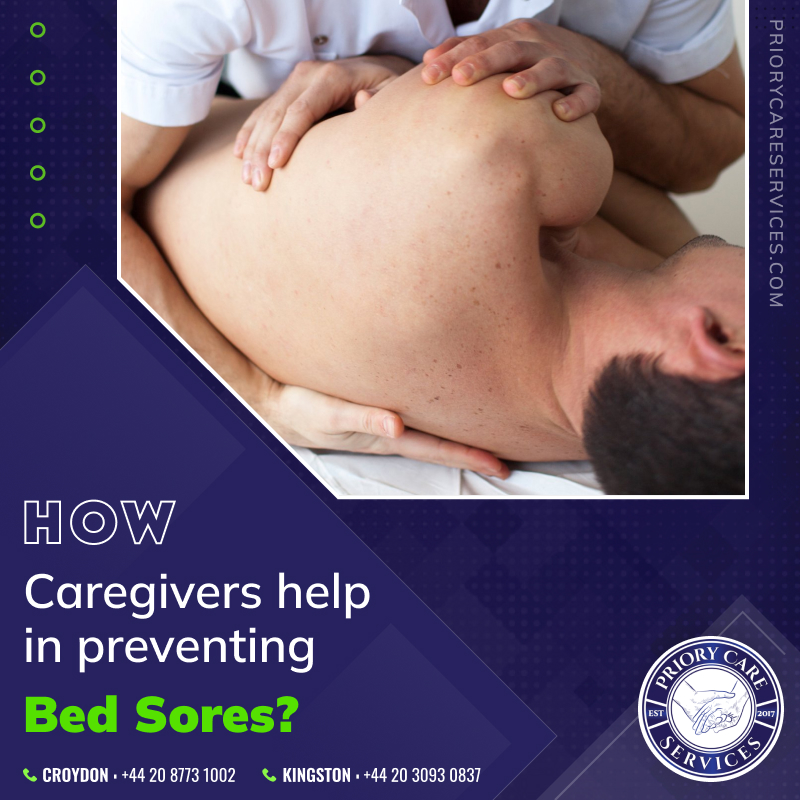 How to Prevent Bed Sores?
If you have parents living in Croydon and if they are stuck to the bed for large amounts of time, then it is advisable to get help from domiciliary care agencies in Croydon. Below, we look at the different ways how a professional caregiver can help in preventing bed sores.
Change position at interval of every two hours

One of the chief reasons for getting bed sores in inactivity and being in the same position for too long. When you hire a domiciliary care worker at home, they will make sure that your elderly does some physical movement every few hours. Depending on their physical mobility, caregivers can help the senior to change position from sitting to lying down or from lying on the back to lying on their side.
Use specialty bedding and pillows to reduce the pressure

For the seniors who are bedridden, caregivers can ensure that specialty bedding is used to reduce the pressure being put on the skin at sensitive parts of the body. Using air or water mattresses and cushioned or memory foam pillows is recommended. Sensitive areas need to be protected with extra cushioned padding to ensure maximum comfort for the bedridden seniors.
Keep the skin clean and moisturised

Applying the right creams and lotions will moisturise and hydrate the skin well, giving it more resilience. A caregiver can assist an elderly with bathing and grooming, thus, helping them with applying lotions in sensitive areas. Moisturising creams form a protective barrier around the skin, which prevents inflammation or dryness.
Provide a nutritious and healthy diet

While there is no special diet to prevent bed sores, but having low nutrition can sometimes slow down the body's healing process and skin regeneration. Domiciliary care agencies can provide care workers who help with meal preparation for the senior. Maintaining an optimum body weight is very important. People with less body fat do not have enough muscle mass to provide cushion to the bony areas. And people with excess weight tend to put extra pressure on the sensitive areas of the skin. Thus, it is very important to ensure a healthy and nutritious diet for seniors.
Conclusion

Bed sores can be very painful and hence, precautions must be taken to prevent them. If you have parents who are bedridden and living in Kingston Upon Thames, then you must hire domiciliary care in Kingston Upon Thames. For trusted and credible home caregivers, contact Priory Care Services.