Depending on the age and health condition of an older adult, many of them need help and assistance in various daily tasks like taking a bath, dressing and grooming, walking, cooking meals, household chores, going outside, and so on. Now it is impractical to think that you will stay at home all day to take care of your ageing parent or grandparent and ignore your work or other commitments. This is why it is advised to hire day and night care in Kingston Upon Thames or other nearby locations. These caregivers can always be present with your elderly and look after every need of them, whether it is day or night.

Day and night care services are especially important during the nightly hours. Since the other family members go off to sleep during this time, your loved one cannot call you for any help. Having a caregiver with them makes such situations easier to handle. In this blog, we look at how night caregivers can be of assistance to an older adult.
Taking prescribed medicines
Has your elderly been prescribed sleeping pills? Do they take it regularly? Many older adults often forget to take their medication on time due to forgetful behaviour. A caregiver will make sure that no medicines are given a miss from the doctor's prescribed list. This will help the senior to go to sleep easily and let them have a good night's rest.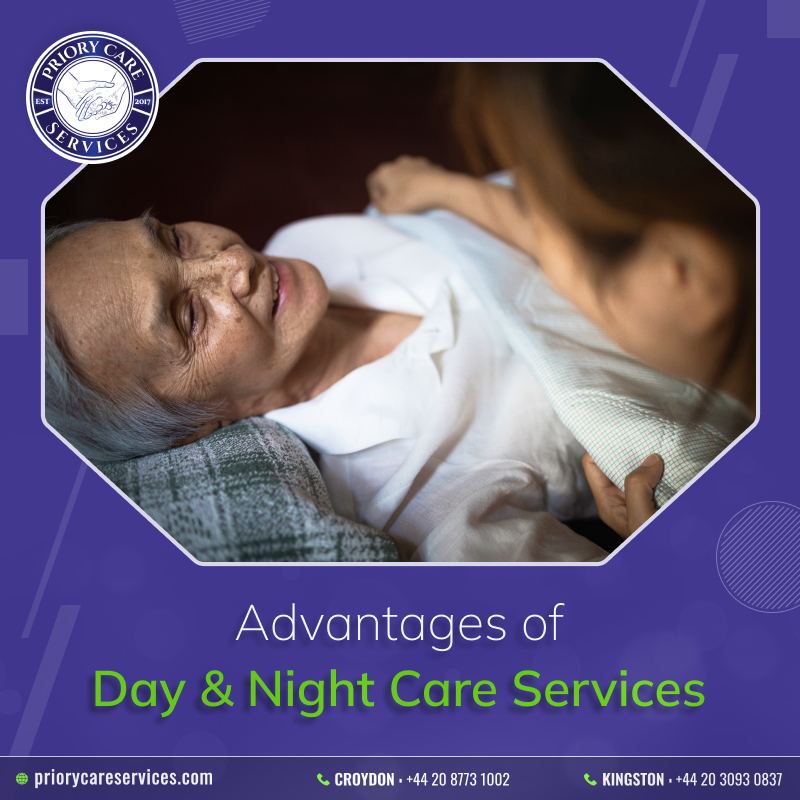 Ensure their safety
Some patients may suffer from sleeping disorders such as sleepwalking. In such an instance, caregivers will stay alert and keep a look on the patient. If they start walking in their sleep, care workers can make sure there is no unfortunate accident. On the other hand, if they are awake and want to visit the bathroom, caregivers can assist them in the path to avoid any accidental falls.
Monitor caffeine intake
Excessive amounts of caffeine before going to sleep could lead to insomnia and other sleeping problems. Opting for day and night care services in Croydon and other neighbourhoods means you can have a caregiver at home to cook healthy meals for your elderly and also monitor the amount of tea or coffee they have.
Offer late-night snack
Older adults who suffer from gastritis and low blood sugar can experience an increase in appetite. This might lead to them waking up during the night due to hunger pangs. If a caregiver is present, they can prepare a quick-fix late night snack for the elderly and your loved one can go back to sleep with a full stomach.
Provide continence care
For some older adults with limited mobility issues, frequent urination can pose a serious problem as they cannot visit the bathroom each time. This might disturb their nightly sleep. Professional caregivers can provide a solution by waterproofing their mattresses and making them wear adult diapers for the night. This way, the senior can enjoy a peaceful sleep every night.
Conclusion
When you know that a professional is taking care of your elderly loved one all day and night, it relieves the stress from your mind. So if you're looking to hire day and night care in Kingston Upon Thames or in any other surrounding areas, choose a caregiving service with experienced and compassionate caregivers. For trusted and reliable personalised caregiving solutions, get in touch with Priory Care Services.